Although I've been reading blogs, I haven't posted much at all over the past few months. Sorry about that, but normal service is about to resume.
We had houseguests for three months, which I found unbelievably stressful and suffocating. I'm so glad to finally have peace and tidiness restored in my house.
I have been up in Auckland on a work trip for the past three days. My boss and I stayed at a hotel on the
Viaduct
which was lovely, and on Wednesday night I went up the
Sky Tower
. I'm not a great fan of heights, so I did wonder as I was going up why on earth I was there. LOL. Unfortunately, I didn't take my camera to be able to share any photos (unless I figure how to get photos from my mobile to my laptop!) - but I will next time!
I found a cross stitch shop near our Auckland Office - but couldn't find anything I liked. I'm too fussy now that I can shop worldwide on the internet from my living room! :-)
When I got home from my trip last night OH had converted one of our spare rooms into a craft room for me. So sweet! I now have my sewing machine, stash, magazines etc etc all in one room. Yippeee. He stayed up really late both nights I was away cleaning the house, moving things around to get the room sorted for me, cleaning up the garden - and he even found time to wash the car! Here's for a relaxing weekend now that everything is done! And my parents are taking us out for dinner tonight (great!) which means no cooking.
I have been doing a little stitching. I finished up my square on Vonna's RR last week.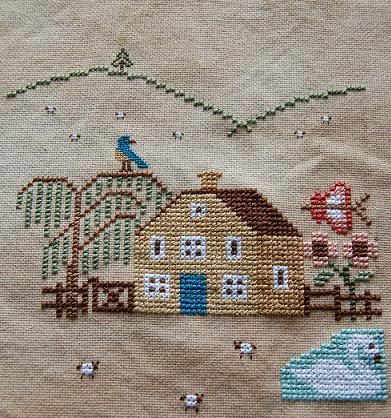 I've also put a few more stitches into Long Dog, and am nearly finished JBW Designs 'French Country ABCs'. Photos to follow.
Hope you all have a good weekend.