... that's the butterfly I'm talking about. Glad it made it, but bummed I didn't see it!
Progress on Ladybugs and Bumblebees was halted last weekend when I ran out of one of the main colours. Of course, nowhere in NZ that I could find stocks 'Cottage Colours'... but luckily I managed to find a stockist in Australia. It should be here very soon.
So I picked a UFO to work on while I wait on it to arrive. I thought that Woodland Santa deserved some attention, so I'm plodding away on that.
We were to expect a 'polar blast' this weekend. Well, I took this photo in my backyard today and if that is a blast from the Antarctic... then bring 'em on! lol. Yesterday was exactly the same. Sorry to my friends in the South though, who really are suffering the effects of the wild weather.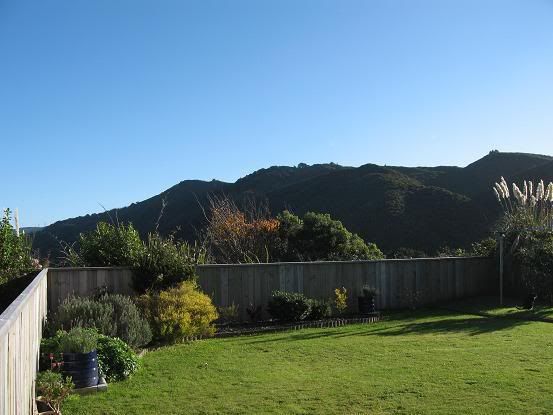 This was a photo I took earlier in the week out of my lounge window. We had a flurry of pretty rainbows, so I couldn't resist taking some photos.
I mentioned in one of my earlier posts that I was doing some genealogical research. I have made contact with four distant relations (I found them online) - and amazingly, one lady lived in the same English village as my late Great Uncle and actually knew him and his wife - but never knew they were related until she got in contact with me!!! Amazing!
Hope you are all having a great weekend!