Some of you may recall that I got my learner driver licence last year. Well, today I passed my practical test and can now drive on my own. Yippeee! I didn't mention it on my blog earlier because I was so nervous. OH kept asking me all weekend if I was OK because I was so quiet, and pale looking at times! LOL. But I passed, and the testing officer even told my OH that he wished more drivers drove like I did. Phew!
One of my sisters sent a congratulatory helium balloon to me at work after hearing the good news. Here's Tess checking it out earlier (she's not usually so brave!).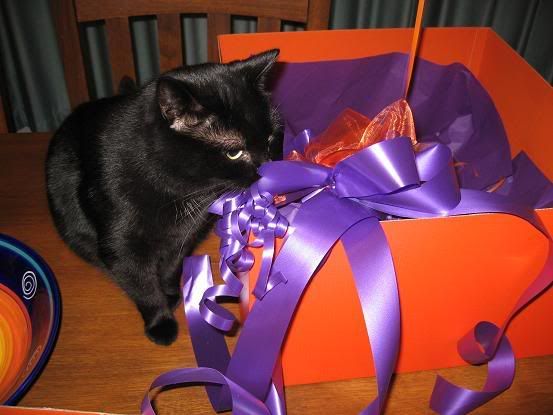 And double yay, my thread arrived from
Karen
at Dragonfly Dreams today. I can highly recommend the friendly and speedy service. And of course, I couldn't just buy one skein of thread - that wouldn't have been much fun to receive in the mail. So I bought Miss Mary Mack too - can't wait to stitch this one!