Yay, my OH received confirmation today that his New Zealand citizenship has been approved. We'll be advised of a date for the official ceremony later on. We both now have dual-nationality (NZ and British), so we're a couple of happy little campers. It just means he has more freedom, doesn't have to keep paying for re-entry permits every few years etc. It perfectly tops off a great couple of weeks we've been having.
Today we had lunch at a garden centre, followed by a wee wander. I just could not go past the Swan plants... and bought one home with seven caterpillars on it. Don't worry if you're not familiar with Swan plants - the caterpillars are supposed to be there! They will, hopefully, munch their way through most of the plant and turn in to beautiful Monarch butterflies (which are declining in numbers in New Zealand, if recent reports are anything to go by).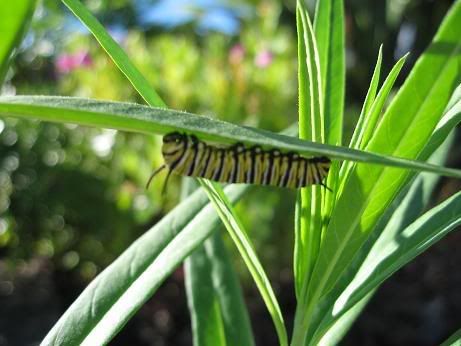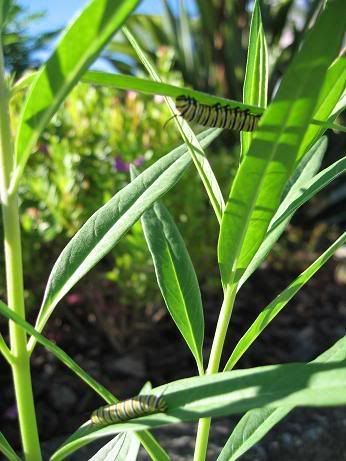 After reading up on Monarch butterflies some people keep the plants indoors to maximise their chances of survival. This could be an interesting indoor 'hobby' (for want of a better word), and I'm already thinking about some kind of indoor enclosure to keep the cats away from them.
Here are another couple of photos from my garden. This is simply known as the 'New Zealand Flax'. Some of ours didn't flower this year, which I presume was down to the late arrival of summer.
This is a Toitoi, a flax like plant with sharp leaves (hence it's other name 'cutty grass'). Although it is a huge New Zealand icon, it is in actual fact a South American plant.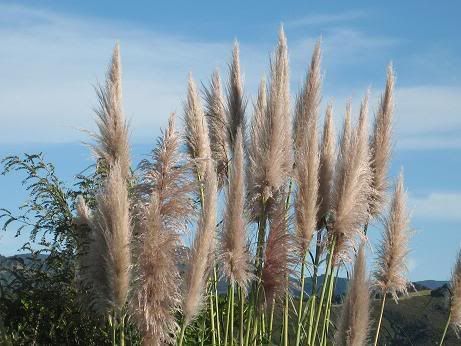 I placed an order this week for a whole bunch of threads from the States (WDW, GAST and Crescent Colours) - I can't wait for them to arrive! They're all for charts I already have. I feel another order coming on soon (love the new Blackbird Loose Feathers design 'Their Song')... but in future I am going to buy charts and the required threads together. I've had charts lying around for a couple of years that I've been meaning to order threads for (since they're not so easily obtainable and more expensive in NZ).
Well must dash, we've got visitors arriving in 20 minutes for a BBQ - and here I am on the net! :0) Hope you're all having a great weekend!