Woodland Santa and I have fallen out. I've lost count of the times that I've lost count! I've decided WS and I need some time apart. So, here's a small Christmassy finish. I'm hoping to borrow my Mum's sewing machine to make it into an ornament, maybe I'll catch the ornament bug?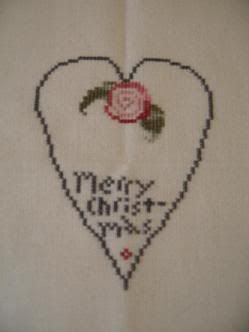 Oh and here was a card that I stitched my Dad for his 65th. It didn't turn out special enough to make into a card, so not wanting to waste the time I'd put into it, I slapped it on the CD cover which holds the movie I made him. (Thanks for the well wishes for my Dad, he's recovering well).
Not long until Christmas now. I am sooo looking forward to the time off work!