It's not long now until Santa arrives... one more sleep to go! Merry Christmas everyone, I hope you all have a lovely day with family and friends, lots of pressies and good food!
I've had a great week with a couple of Christmas dos, my Mum's 60th, an awesome Christmas bonus (which will pay for our flights to Australia next year), and I found the elusive DMC 115!! Yay.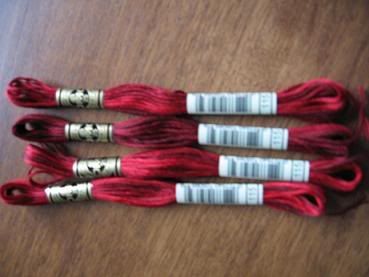 Here's a WIP of 'Lavender Hill' by Little House Needleworks. I'm stitching it on 32 count 'Rose Petals' hand-dyed fabric from Countrystitch. The photo doesn't do the fabric justice, it's very pretty.
I've dabbled in scrapbooking in the past (I'd made a whole 2 pages!), but I think the bug may have finally got me. My younger sister and I have had a scrapbooking weekend this weekend, and I made four pages (here's one below).
My sister has enough scrapbooking stash to start a shop and she doesn't mind sharing. I have a bit of stash too, so I think I've definitely got a new hobby for 2007.
The writing has been blurred out beneath the photo, it just has my Grandad's full name and army number. There are some more photos in my
Webshots
(in the album titled 'Other Crafts' for anyone who is interesting in scrapbooking.
Merry Christmas!