My motivation is severely lacking in the stitching department. I've started stitching the Woodland Santa again, but it's slow going. It's not worth sharing a photo at the moment.
Instead, here's another cat photo. This is Giggsy when he was 8 weeks old. He and Meg were such loveable little terrors. Oh the stories I could tell about ripped wallpaper, curtain climbing, curtain rails being pulled from walls and shredded toilet rolls. We used to live in a very old house with lovely wooden floors, and it was always so delightful to hear the padding of furry cat feet chasing one another around. They're still very loveable, but much calmer now (phew!).
I bought the September issue of Cross Stitch Collection yesterday (my interest is stash shopping never subsides) - there are some fab designs in it - a Lion Cub by Pollyana Pickering, Earth Goddess and Part 2 of a very large design called 'Summer Ball' (it reminds me of Pride & Prejudice). I was going out to get the magazine with Part 1 in it today, but it was (surprisingly!!! - not) pouring with rain. Tomorrow I'll go armed with a jacket and a brolly!
Speaking of magazines -
Ali
if you are reading this, I have left a message on your last post re the JCS Ornaments magazine.
Speaking of more magazines :0) LOL - I don't often purchase items on TradeMe (like Ebay), but when I saw this auction had very little interest I put in a bid and got these magazines for just $5 (that's roughly about US$2.50 or GBP 1.50)! I love a bargain.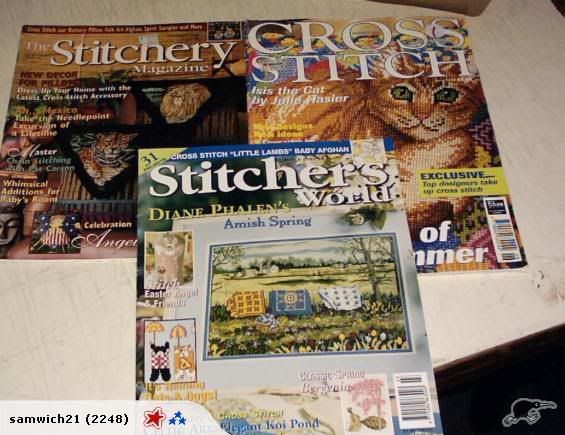 Has anyone else not received their Rainbow Club from Countrystitch this month? Just curious.
Finally, thank you for all your get well wishes for my Dad. One of the veins they put into his heart when he had his bypass has become completely blocked due to scar tissue. I'm not yet sure what they intend doing to fix the problem.
Hope you have all had a good week, and have an even better weekend! :0)