Who me, naughty? Never!
(Tess looking surprised on hearing "you've been a naughty cat").
I apologise for my lack of updates, but the only stitching I've been doing this week is of the reverse kind. I wasn't happy with how my Woodland Santa design was coming along, so I've spent several nights (boredom has prevented it being a one nighter) ripping it out so I can start again. The fabric is 32 count, and I was stitching with two threads... so I will restart using a single strand.
I'm worried about my Dad at present. He had a heart bypass a few years ago, but has been having angina pains so has to go in for an angiogram and angioplasty this week. He's been suffering with a few minor ailments lately too, and came to a BBQ at our place tonight and couldn't eat because of major toothache (the dentist can't find the problem). Not good all round. He's retiring next year, so here's hoping a more relaxed lifestyle will be beneficial to his health.
On to cheerier topics, here's Giggsy in his favourite spot - OH's beanbag. I have a tiger striped one, and the cats won't touch it. LOL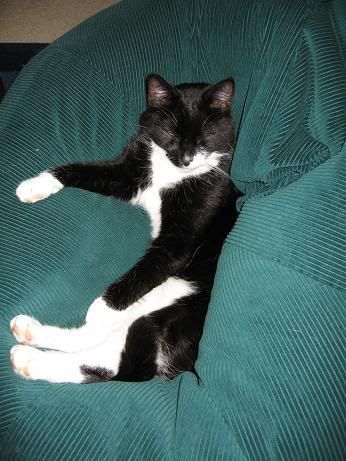 And here's OH imitating wee Meg...
Hope you're having a good weekend!