After the fog cleared this morning it revealed a beautiful, warm day. Winter isn't all bad. (You can click the photos for a larger view).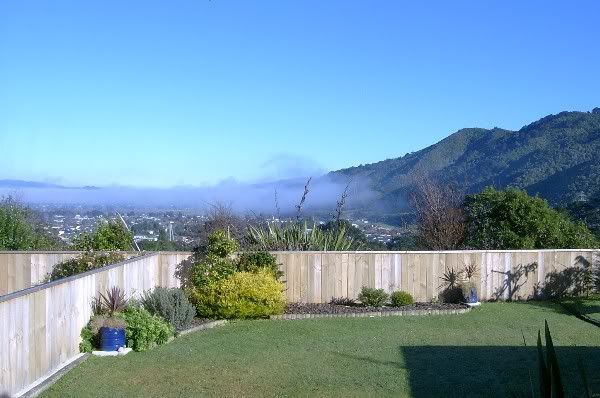 I don't think Meg has made an appearance on my blog for some months, so here she is enjoying today's mid-Winter sunshine in her favourite spot on the fence (it's great for bird and lizard watching!). I can't remember if I mentioned that Meg has joined the elitist club... she's now a gold star cat door user too. Giggsy shows no interest and runs away if he thinks he's going to be shoved through it. LOL.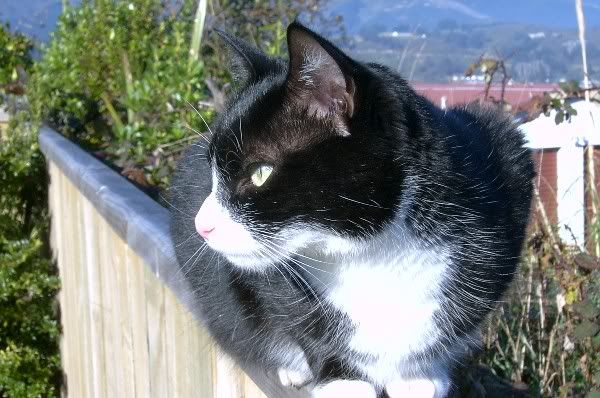 Meg's shadow is usually found lurking in the garden beneath... yup, it's Tess! As you can see she's getting quite chubby, which we'll have to work on fixing later in the year. Her growing physique has lead to her latest nickname - Bubble! She's got a very petite frame but a very round middle... it's like someone has pumped her up with a bike pump.
OH went to bed early-ish last night (so he could get up at 3am to watch football), so I watched one of my favourite movies (Shall We Dance) and stitched until after midnight. It was great and I made some good progress on Damask Roses. Thanks for your comments on the last WIP update :-)
Hope you're all having a great stitchy weekend.