I don't know what the vet prescribed Tess at the vets on Monday (she was in a scrap on Saturday night), but I'm sure it wasn't just an antibiotic. Look what she has just started doing.... grrrrrrrr. Sure the house needs redecorating from top to bottom, but the wallpaper in the hallway WAS half reasonable for the time being. I'm still struggling to see the funny side of this one.
It's been a wet and wild week in Wellington with lots of rain, land slips and traffic chaos. The worst of the rain is over, but they're still struggling to keep the hillsides up. Oh well, it's been great stitching weather and I've made some good progress on Damask Roses.
I pulled out my threads and fabric last night to see what I needed to stitch this cute 'Ladye of the Castle' sampler. To my surprise all I needed was three skeins of thread, which I promptly bought today. I am not sure when I'll start it, but it's good to know I've got everything on hand to get going when the mood takes me. I did notice one annoying thing about this sampler though - it is missing two letters of the alphabet. I guess it is probably some historical thing but it's enough to annoy this modern girl. LOL.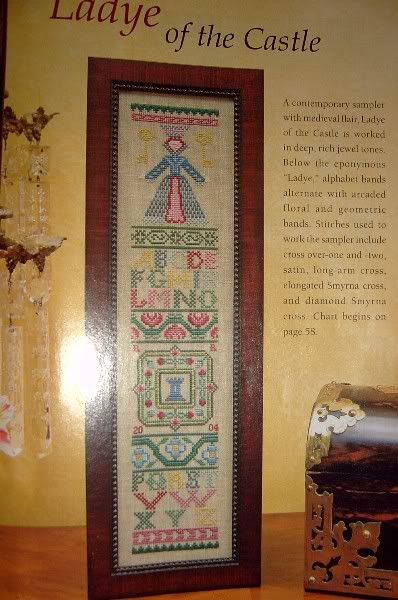 Hi Tara - Thanks for your comments. The stitched piece in my 8 June post is my own adaptation of the 'Summer' sampler in Jo Verso's book 'Cross Stitch Year'. I had to leave out a number of other pretty bands out so it would fit the size requirement for the exchange.
Hope you all have a great weekend.