It is amazing what people search for on the internet. I was checking out my blog stats and saw someone found my blog because they were searching for 'squishy chicken'. This of course relates to my earlier post re 5 things I have in my handbag.
This is my squishy chicken....
I don't know (nor do I want to know) if the term 'squishy chicken' refers to anything more sordid, so I hope the searcher knows that this is a stitching blog!! LOL
I agree Nicki, those snow leopards were stunning. I read that the camerman was brought to tears while filming them, realising he had some very rare and precious footage. (Didn't he just!)
I haven't answered a Stitching Blogger's Question before, because I've never taken the time to find out where these are posted. But I saw this question on
Margaret's
blog and thought I would answer.
How many cross stitch books do you own and how often do you use them?
I have five:
Donna Kooler's 555 Fabulous Cross Stitch Patterns
Jo Verso's Cross Stitch Year
Jo Verso's World of Cross Stitch
Ultimate Floral Cross Stitch
and (as can be seen in my last post) The New Cross Stitch Sampler Book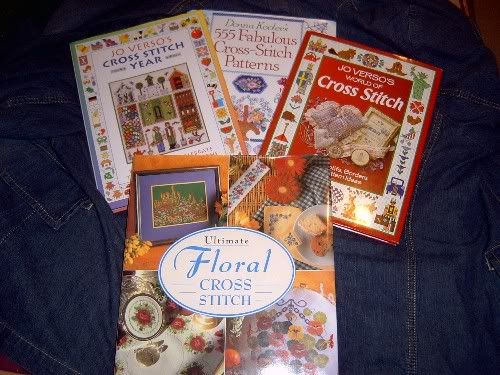 I've used them quite a number of times, especially 'Jo Verso's Cross Stitch Year'. I love looking through them and pull them out quite often for a flip through. I'm really looking forward to stitching some designs from the Sampler book I bought on Wednesday. I guess I would buy more books if they were more widely available and weren't so expensive.