... with my stitching that is, although I now have issues with the scanner too. It's done a horrible job of the photo beneath.
The stitching on DT's 'Cat's Meow' has been done for a few days now, but the couching of the mouse tails is frustrating me no end. Couching looked like it would be really easy, but I keep getting in a right tangle. The fact I have one mouse tail done is just sheer luck. Does anyone out there have any handy tips?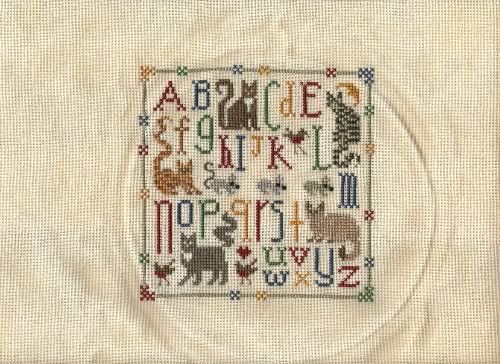 I'll be sure to post a better photo when my sister gives me my digital camera back. I let her borrow it so she could take some photos of her new wee kitten. She is pure white, about six weeks old and just so cute.
I received an Easter exchange package on the weekend. It came via my neighbour, because it had been addressed to their street number and not mine. I got a call from my Mum saying 'did you get your parcel?'... and I'm like 'what parcel?'. Apparently the neighbour called my Mum after poking around in the phonebook and asking her if there was a Rowyn in her family. How kind that she went to the effort of phoning someone (she probably struck it lucky first time as I think Mum and Dad are the only ones of our surname in the book), and didn't just send it back to where it came from. I found it on the doorstep on Saturday night. I'll be sure to share a photo of the exchange come Easter time.