I was up at my Mum's last weekend, because it had been so long since I knitted I couldn't remember how to cast on. So I began... and then my sister decided she wanted to knit her friend a scarf for her birthday (she's 28, but still a typical little sister!!). We joked about who would get finished first because she was finding it really difficult (her wool is not only fluffy but has a kink all the way through it too), but it soon became a full on competition. We have been knitting away furiously and sending one another PXT all week with our progress... of course she is winning as she has had more time on her hands with a few days off work, but I don't believe she is finished yet so maybe I still stand a chance!? :-) Anyway, my progress is in the photo below.
I don't think knitting will ever really be my thing, but I have been enjoying it and feel tempted to try something a bit more adventurous than a scarf next time.
I haven't felt too much like stitching lately, and still haven't done any since I finished 'Love'. However, I felt like a walk at lunchtime today... and what better place to walk to than the magazine shop... I came away with the newly titled 'Cross Stitch & Neelework' (previously Stitcher's World) and a very unsual choice for me - 'Cross Country Stitching'. While the religious nature of the magazine isn't my thing, I really love the bright colours and country-style designs. There are 26 'Shaker Folk' in this issue. They're brightly coloured country people who are knitting, stitching, bee keeping, quilting, collecting apples etc and they all have little birds, cats and bunnies in them. I might have to look more closely at this magazine in future!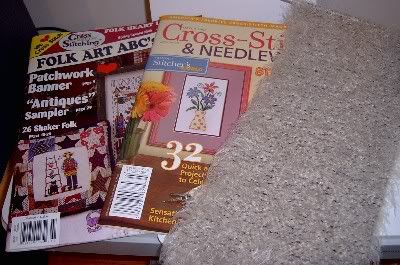 If you can't beat 'em, join 'em... here's my favourite mugs. They're never used as I hardly ever drink hot drinks at home, but I love them nonetheless.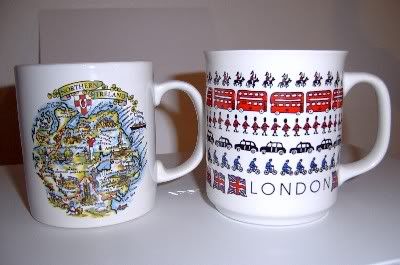 Daylight savings ends here this weekend. Yay for the extra stitching hour we will receive on Sunday, but it will be boo hoo as we say goodbye to summer and the long hours of daylight.
Have a great stitchy weekend!