... it ate two of my posts over the weekend. I added some links and it ate those too. Oh well...
One post was to say that I subscribed to the new online magazine 'The Gift of Stitching'. I think the first issue has some lovely items in it, and for US$9.95 for a year's subscription it is very reasonably priced. Haven't worked out what that is in NZ$ yet but it's not very much. I am a 'bit' of a magazine addict, so no doubt these will soon start stacking up too :-). There is a mystery sampler in the first issue by Papillon Creations, I am thinking of doing this so if anyone other subscribers feel like a SAL do let me know. If you click on the picture of the magazine below it will take you to the website for more information. Oh, and the Editor is a local Kiwi lady - so it has to be good. LOL
Thanks for all your comments on the drivers licence... boy have I come a long way in a week. I've had lessons everyday (thanks to my patient OH), I've been driving in the country, around the outskirts of the town centre and I even did the 'big dipper' (which as the name suggests is a big dip in the road). My Dad used to love taking my sisters and I down the 'big dipper' when we were kids, so I'll have to tell him I've finally driven down it myself. It's still a little nerve wracking at times, but I am enjoying it.
Stitching wise - Damask Roses is coming along nicely. I hope my motivation sticks with me as it is progressing quite quickly. I am already planning my next large piece for when Damask Roses is finished, it will be Lavendar and Lace's 'In the Arms of An Angel'. I love the colours in this one.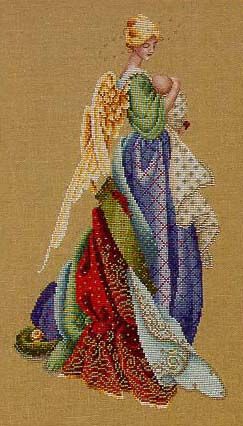 It has thankfully been cooler since my last post. I'm sure I'll be sad when daylight savings ends next month though, and the days start getting shorter.
Hope you're having a great stitchy week!