My name is Rowyn, and I'm a magazine-aholic. Here are two more I added to my ever-growing collection this week! I just hope OH doesn't ship me off to rehab at some stage. :-)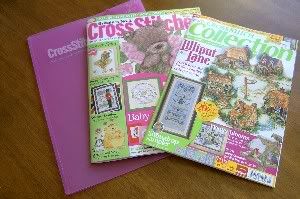 And now for some stash of a different kind... some wool...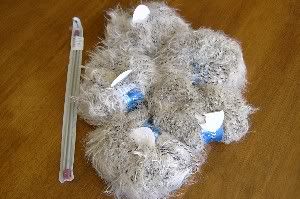 I got a bit of a bargain because they were supposed to be $6 a ball, but I got them for $3 because they were incorrectly marked on the shelf. OH fought it out for me with the staff who had initially charged me the full amount, and I was returned half of my money. Yay! It isn't a very good photo of it, but it's really pretty and natural looking and is so soft and silky. I'm going to knit a scarf for myself for the winter.
As for the devil cat... if you have read previous posts about my youngest cat Tess you will know she is a bit of a biter. She had calmed down quite a bit, but I picked her up for a smooch last night and she put one paw on the left side of my face, another paw on the right side of my face and opened her mouth wide like she was going to bite me fair and square on the nose. LOL. It's a good job she's really cute and sweet most of the time, so at least we can laugh about it.
Hope you're having a great weekend!