There sure is a lot of blue in this design....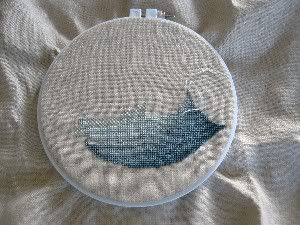 We've got a long weekend this weekend, and another in two weeks time so I have plenty of stitching time coming up to carry on with her. I haven't even frogged... yipeeee!
Speaking of frogs... I bought a copy of New Stitches today (still debating whether I like this mag as much now it is combined with Cross Stitch Gallery). It has an interesting article on the Bayeux Tapestry and it's replica in England - it says even stitchers centuries ago 'frogged'. So I don't feel so bad. :-)
I relented and did buy some stash from Countrystitch, but I was very good and only bought some WDW and GAST for charts I already have in my collection. I am thinking of stitching Peaceful Forest by Bent Creek for my sister, who is shortly moving to a 29 acre section surrounded by bush and forest. I've had the chart for a while, so what a perfect opportunity to buy the necessary threads with 40% off ('cos they sure ain't cheap!).
Meg and Tess have been struggling with one another for top cat position lately. If only Meg would assert herself more. Unfortunately, Tess and her street-cat ways seems to be becoming the more dominant. Here they are in a rare moment of relaxation together, enjoying the last rays of the day.