I was determined to get Tiger Reflection finished before the end of the weekend, and spent some of Saturday and most of Sunday working on it. I just had a few whiskers to do come bedtime on Sunday night, but by that stage I was a bit fed up with it. So it took me about 10 minutes last night to put the final stitches in... and here it is...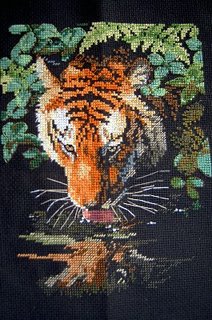 After my HD I started the Woodland Santas by the Prairie Schooler, but one over one isn't for me. The concentration was intense, and it was making me squint! I think I would soon fall out of love with it!! I could fit it on the material doing over two, but it wouldn't leave much room for framing or whatever. So tonight I am probably going to start the Drawn Threads 'For the Birds' on the Kiwi Illusions fabric 'Kiwi', and get another larger piece for the Woodland Santas.
I've been reading everyone's 2006 stitching goals. I was thinking about my own stitching goals for next year, and they are simple - stitch whatever takes my fancy and enjoy doing it. Next year we are going overseas for six weeks, so I imagine as the excitement mounts my stitching may suffer in the months leading up to it (and may suffer afterwards as the post-holiday blues set in!).