Here's a pic of Tess with her tongue out. When she's relaxed and happy she likes to let it all hang out! :-)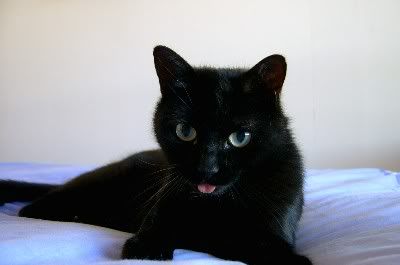 Here's some additions to my magazine collection which I bought yesterday. There isn't much in this issue of Cross Stitcher that appeals to me, but it is a wonderful issue of Jill Oxton's Cross Stitch and Beading. It has a lovely frog design, some very cute Kewpie dolls (I remember having a Kewpie doll when I was young!) and a whole lot more.
We booked our tickets for our trip today and now have an intinerary (yay!). It always feels more real when you've paid and have an itinerary in your hot little hands. Still 8 months to go mind you! We decided we'd stop over in Singapore for two nights. We went there a few years ago on our way back from the UK, and loved it. Natty - Jems is the only one I know of in Canterbury too. I should have worded it better, as I probably got you all excited over nothing! :-) Have a great stitchy weekend everyone.