Thanks for all the comments on my Tiger Reflection HD. I do plan to get him framed at some stage Jenna, along with all my other many completed cross stitches. My Mum, and even my OH, often tell me it is a waste having them sitting in a drawer unseen. I do hope to get a sewing machine in the future, so that I can learn to finish stitched pieces off in different ways.
I did end up starting on For the Birds last night. Not a great pic, for some reason when I shrink the photos they make the fabric look checkered!? The fabric is "Kiwi" 28 count Jazlyn from CountryStitch, and is far nicer in 'real life'.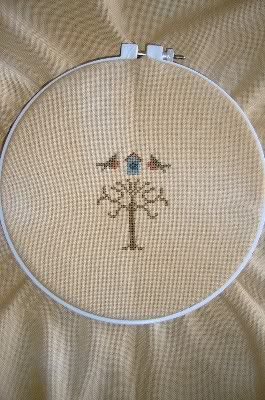 Jo asked where I'm going when I go overseas next year. First stop on the itinerary is England, then on to Northern Ireland (where OH is from) and we are having a week in Cyprus with OH's family. We're still deciding whether we should stop over somewhere, or whether we should just use the time to spend with family and friends. One thing is for certain, I already have a couple of stitching shops in Canterbury and Ballymena on my personal itinerary. Tee hee.