Wow, last night when I got home I looked out our lounge window and saw a couple of Tuis in the Kowhai tree. I love New Zealand's native birds so I went closer to the window to watch them, the closer I got the more I counted... there were about 12 in all! I have never seen so many Tuis at once before, so it was really lovely. Meg was up this tree the other day chasing a Kereru (native wood pigeon), it was bigger and far more solid than her so I don't know what she would have done with it had it not flown away!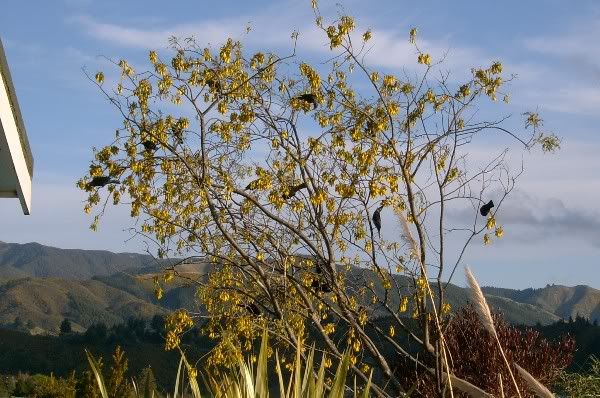 I found out the dilemma my bookmark exchange partner had in posting to New Zealand. It was supposed to be a secret exchange and rather than putting your own address on the back, you had to put the exchange organisers address. The organiser was in England and my partner was in Germany, and when she got to the Post Office she found that she wasn't allowed to send the parcel with a return address from a foreign country. For those who participate in secret exchanges, this may be worth bearing in mind. Here is my lovely bookmark with some gorgeous extras my partner threw in. Thank you Karin - I'm thrilled to bits with my parcel and already thinking about what I can stitch on these gorgeous pieces of band. :-)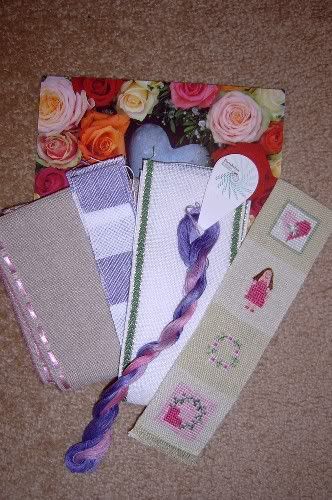 I'm making good progress with Welcome, and with my OH busy this weekend on a course I'm hoping to have some 'me' time to finish it off and decide what I'll stitch next.