It was my birthday yesterday, and here are the gorgeous gifts I got from Elaine in Scotland for a birthday exchange. There was also chocolate in the parcel, but that has long since been devoured. :-) Many thanks Elaine!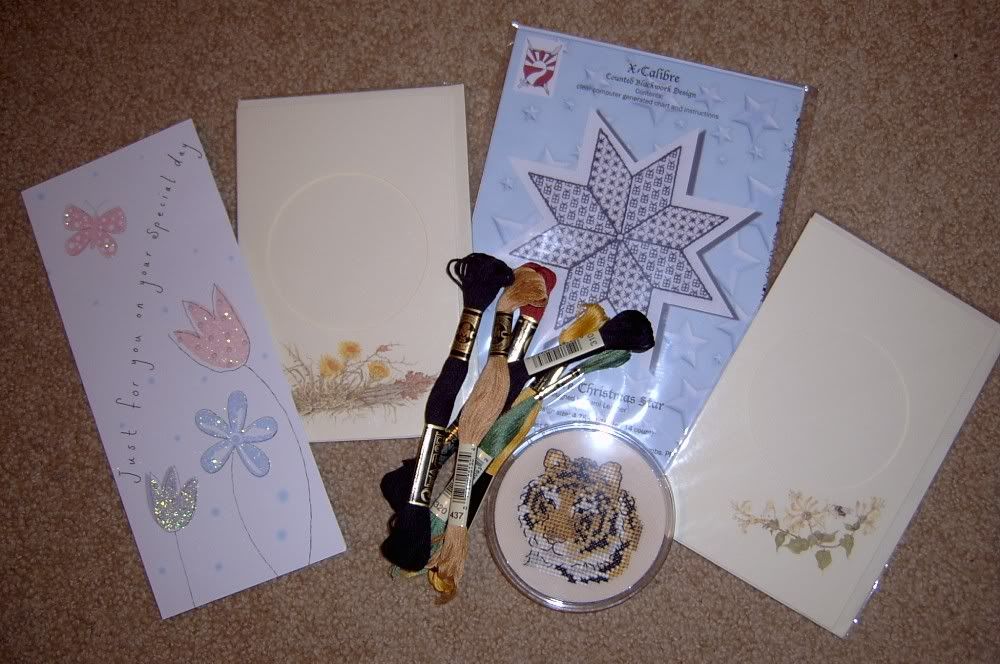 I have had a full on few days. On Saturday night we had a SingStar night. Even though I never win (although I did manage to win a game against my OH's six year old nephew when he visited in January, ha ha) it's always a lot of fun. On Sunday night we went out for a buffet dinner, and of course ate way too much. Then last night, the actual day of my birthday we went to my Mum and Dad's for dinner. I was also spoiled with some lovely garden and kitchen related birthday pressies. We are soon going to be replacing the downright ugly fence around our backyard and pool, and will then be redoing the garden how we want it which will be fun. I've still got a water feature to come from my OH. Trust me to pick the one the shop didn't have! But then who ever heard of a shop that displays water features that they are not actually selling and don't know anything about, including who the supplier is? Crazy.
I was thrilled to find the thread from Dimensions for Lady Leona waiting for me when I arrived home tonight. Talk about speedy! I will write and thank them for such excellent service.
On a not so happy note, I am presently a little sad for one of my Mum's cats. He's been very sick after a bite to his foot, and because he has been so unwell they have done tests for kidney disease. Although Mum hasn't got the results yet I'm expecting them to be positive because we lost two other family cats to this disease, including my beloved Benson who was a big black beauty with a lot of character and Tammy who was a sweet and affectionate all ginger female (which is a rarity). Still nothing is certain and I'm keeping my fingers crossed for Casper the grumpy but loveable wanderer!
I'll finish up on something positive - I have the rest of the week off work. YAY!! And now that I have the thread for Lady Leona I hope to find the time to get her near to being finished. I'll be sure to post a progress pic.