As you can see it is really cold here... this isn't the worst of the snow. By the time I had got dressed and went outside to take a photo the thick snow was covered by clouds. The last time we swam in our pool was in March when the water temperature was just 12 degrees Celsius, I dread to think what it is today! Roll on summer time.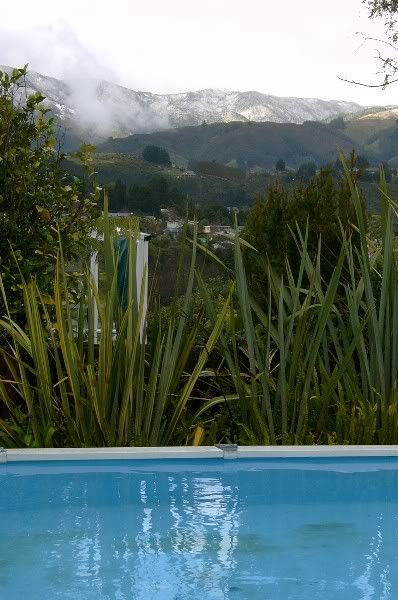 Once again, I have managed just a few stitches this weekend. I wish I had more dedicated stitching time, but yesterday my sister bought SingStar Pop for the PlayStation and wanted to come around for a sing-song. It's really amazing when you think you're singing like a star it tells you you're crap, and when you are singing like crap you're scoring heaps of points. Needless to say, I lost every game. But it was fun! I even enjoyed watching the All Blacks win against the British Lions last night with my family.
Today has just been too cold to do much and we've just huddled in front of the gas heater all afternoon watching the telly. I have just finished watching City of Angels on SKY. I didn't really enjoy this movie the first time I saw it a few years back, but I really enjoyed it. A bit of a gushy, weepy, lovely movie - I guess what I'm trying to say is that it was a chick flick! :-)
I bought my Dave Dobbyn CD yesterday, so I've got it in the laptop to listen to as I surf the net and so I can upload to my iPod. I've now got a few other CDs in mind after playing SingStar yesterday. Roll on pay day!
Off to read some blogs and to try and fit in a few more stitches!