We all love stitchy pics, right? Well here is Lady Leona (from Dimensions) which is my current WIP. I've really been motoring along on her and she is starting to take shape rather quickly now. In fact I'm finding her rather hard to put down, which is bad news when I have an RR to do. :0) You might think she'd be a bit boring to stitch with all that brown, but if you have considered buying this design you shouldn't be put off - there is lots of tweeding and using different numbers of threads to keep you interested.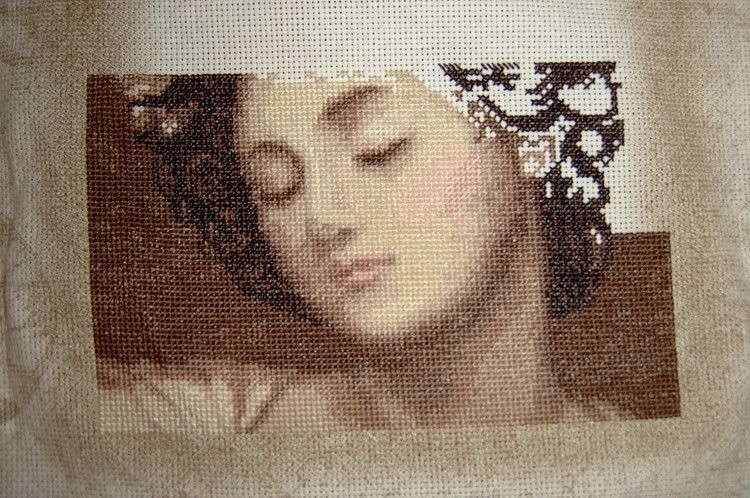 This weekend has been a bit miserable weather-wise so this afternoon I have been putting together a photo album for my OH's nephew who is turning seven next month. He came out from Northern Ireland in January (where my OH is from) and we toured the South Island and showed him and the rellies around locally too. As I took well over 500 photos of his time here, I thought that it might make a nice birthday present for him. He is quite advanced for his age, so we have no doubt that he'll love it and actually appreciate it. His sense of humour is that of someone much older too. He put me in my place when he was four years old. We had flown over to Manchester (from Northern Ireland) for a few days away, and on the way back he bought a toy plane at the airport. He was pretending to fly it around and I said to him "Hey, there's no pilot flying that plane!" and his retort was "That's because it's a toy plane"!! What can you say to that?
As I was printing out the photos (it took a few hours) I started tidying up some of my stash - making piles of charts, magazines etc. Too many times I have wanted to start something quickly and my plans have been grounded because I can't find what I want. I put all my threads into numerical order and into floss boxes a few months back, so I'm getting organised slowly. One day I might even get around to selling some of my unwanted stash on Ebay or TradeMe.
I fancied buying a stitching magazine yesterday, so off I trekked during my lunch hour through the rain to my favourite magazine shop to pick up a copy of The Cross Stitcher... but they'd all gone. I ended up going elsewhere, but they didn't have it either and as it was raining I didn't fancy trekking any further - so I ended up with a copy of The World of Cross Stitching. It has a really cute Humphrey's Corner design in it - but that is about the height of it. It's funny how my tastes have changed in recent times, I much prefer the American magazines over the UK ones now. I never used to even look at the American ones, but now I find the designs more appealing and more varied.
Thanks to those who have taken the time to make a comment on my blog. It's nice to know that someone out there is having a looksy!
Hope you're having an enjoyable weekend, no matter where in the world you are...